Ever since Christmas, I have been making gift bags to increase my supply for next year. I snagged all the Christmas fabric deals I could find and began pumping out bags of various sizes. As I went along, I realized I had lots of other fabrics that would make really cute birthday or all-occasion gift bags. So I whipped up some of those, too! Since I have a little guy with a January birthday, I knew that he'd need some gift bags for his birthday goodies. I found this really cute print at Wal-mart for some obscenely cheap price, and it made great gift bags.
I designed the 10-Minute Gift Bag during this time that I thought was unique and easy, or rather, sew.simply.creative! It offers easy ties with button holes to keep them "threaded". If you have an automatic button-hole feature on your machine, then you'll whip through this tutorial in no time, and end up with a clever little (or big) gift bag!
Materials Needed:
2 rectangles of fabric, your choice of size depending on desired size

3" wide strip of fabric for strap, with the length measuring 3x the width of the rectangle. (ie. if your rectangle, positioned vertically, was 15 inches wide, then you need a 45" strip of 3" wide fabric for your tie)
1)
Finish Top Edge
- You may either fold your top edges of each rectangle under 1/4 inch, once, and once again, and top-stitch OR you can use your serger and serge the top edge and then fold/press under 1/4" and top-stitch. Press.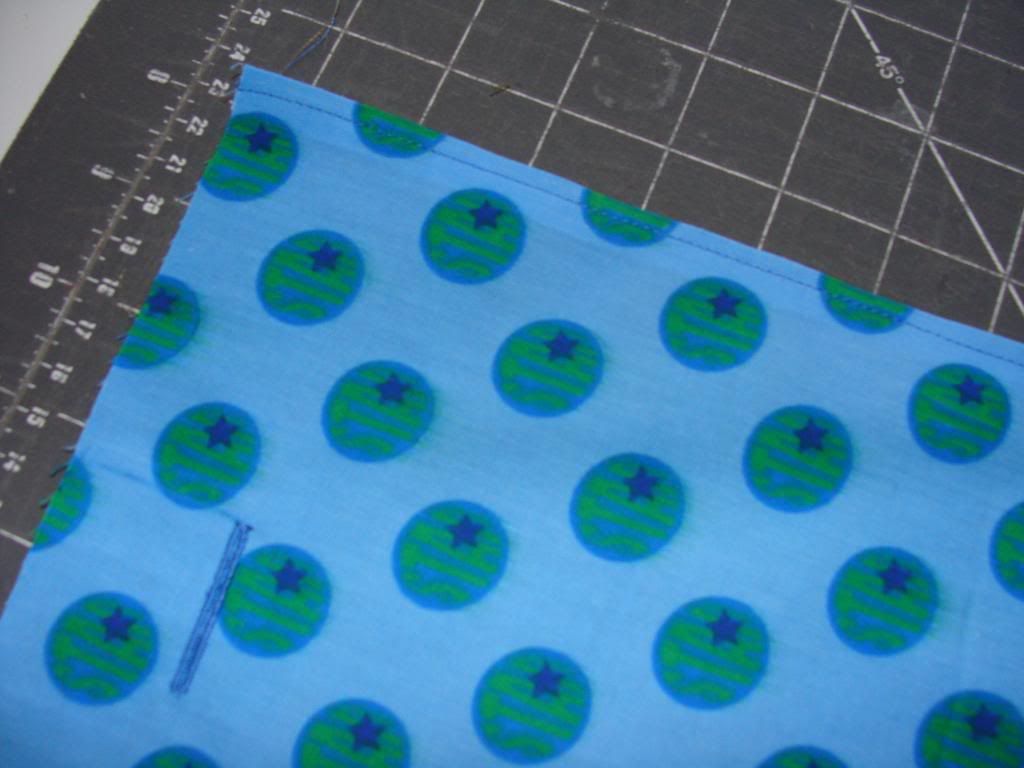 2) Button hole slots for ties - (You could actually skip the button holes if the prospect of making them gives you an anxiety attack :) ) During this step, we are creating button holes that will serve as the holes to thread the tie through. Decide how much of a "ruffle" you want above the tie. I used 3-4 inches on my gift bags, and they are large enough to hold an item the size of a school 3-ring binder. Once you have this point noted, measure 2 inches in from each side edge and mark it with a pin or fabric chalk. Use your button hole feature on your machine to make a 1.25" vertical button hole. You will have 2 button holes for each rectangle of fabric. Using small scissors or a seam ripper, open up the button hole. I like to use Fray Check on the button hole at this point.
3)
Stitch body of bag
- With right sides together, stitch sides and bottom of bag together. I used my serger so my edges were clean. If you use your sewing machine, you may want to zig zag your seam allowance to prevent fraying. Turn right side out and press.
4)
Sew tie/strap
- fold your strip of fabric for the tie in half, lengthwise. Open up the fold and refold each long edge toward the center crease. Then refold along the initial crease. You should see 4 layers of fabric at this point. Top stitch down each long edge and you will have a nice, substantial tie. I like to put simple knots in the ends of the tie, but wait to do this until the end of the tutorial! (In this picture, I used an awesome short cut with my serger: I folded my strip in half, and then in half again. I serged the raw edge.)
5) I take the center of the strap and tack it to the back of the bag, just so I can be sure that I don't lose it. This is optional.
6) Thread your tie through the slots you made with your button holer. Tie the ends of the strap into knots to give them a finished look.
You are done!
As always, let me know if you have any questions! This tutorial is so easy and can be customized to fit any gift! Have fun!