My friend, Jenn, of Etsy's It's Sew Sweet got a custom request from a Bunco pal for some sandwich wrap mats.  So, she's been researching and making several varieties to determine which she feels would make the most functional (and cute!) wrap mat.   She's made some super cute 'stop sign' shaped mats so far and they are so adorable!
To be helpful at least in my own mind, I whipped up a variation tonight from 2 - 13 inch squares of fabric for her to check out as another option.   I used a cotton in a pirate print since it's one of my son's faves, and a PUL remnant to keep the surface that will inevitably get all the sandwich goop on it easy to wipe clean.   I attached some velcro and then it folds up like an envelope.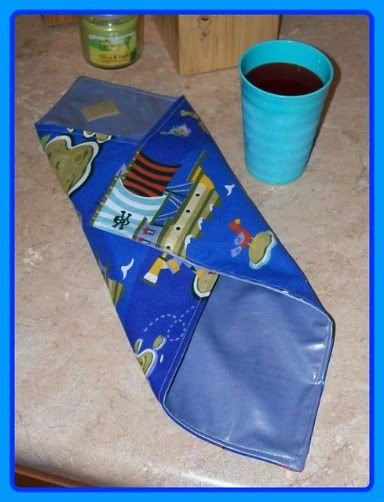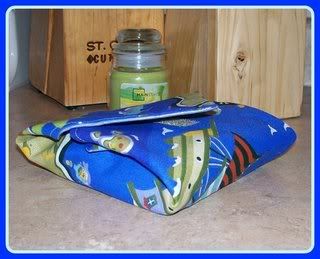 So, I decided to test it out.  Isn't this what we're supposed to do in the research phase of things?!!!   I made myself a sandwich.  For me.   I know it looks like the set up for a kid, but I was 'in the moment' and was going for the full effect.   A kid-size Wonder Bread type sandwich fits perfectly in this size of Wrap-mat, by the way.   Within moments, my 5yo son wanders over and eats my sandwich.  All of it.
The beauty of it all is that he used the wrap for a place mat! (which is part of the purpose of the wrap-mat, too!).  And considering that I recently popped in to school to have lunch with him and saw him spread his entire meal out onto the bare table top ~gag!~  I'm even more sold on this idea!
The moral of the story:  be sure to stock up on these little cuties when Jenn gets her final product stocked!   I'm going to sit back with my PB & Fluff sandwich and pretend like my contributions to her project were majorly useful.
ETA:  She's stocked!  Go here for details!