...but as I started working on it, I realized I could actually make it kinda classy and cute, in a preppy sort of way!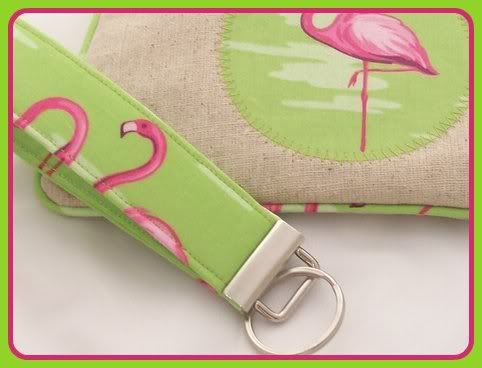 Here's the story:
My friend's mom, Cindy, sent over some fabrics for me to add to my stash. She's a lifer, if you know what I mean: she's been sewing all her years! Anyway, she also gave me some wooden spools that I'd been wanting to collect, a spool holder, and some vintage sewing photos.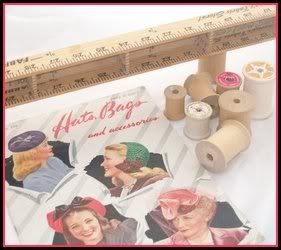 Moreover, she's a flamingo fanatic!
My friend (her daughter) Jenn
is always picking up little flamingo themed items to send to her mom. It's a riot! Last week, I stumbled upon some flamingo fabric at
JoAnn's
when I was rummaging through the remnant bin (
one of my very favorite things to do!
). Take a peek at what I did with it! Not too shabby, eh? At first I expected it to lean toward the tacky, but I think it ended up just the opposite! Quite classy! I worked up the piping myself (
another favorite thing of mine to do lately, too
).
Cindy's Flamingo Wristlet & Key Fob Set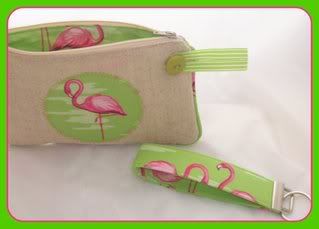 Thanks so much for all the goodies, Cindy! I know I still owe you a little something with that chocolate fabric~I haven't forgotten!
And I think I still have a tidbit of fabric left...I just might make another set and offer it in my
shop
!