My morning musings today during my run (after eating a breakfast which consisted of sticking my fork in some leftover birthday cake) were about how excited I am for
my new tee
to arrive!
My "
I can design anything
" friend (she really can!),
Cicily
, whipped up
this super-cute t-shirt design
after our recent, and rather comical, discussion about those who run to lose weight versus those who run to be able to eat their next cupcake. I'm the latter, for sure! And, I'm certain that there are many of you out there who can relate! So, set down your cupcake, and go grab
one of these tees
~ they come in all styles ~ and embrace the fact that you Run To Eat!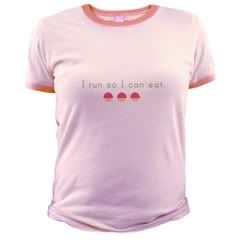 Honestly, aren't these the cutest things you've seen in a long time?!?!!!!